---
Motorola GM300 Squelch Modification
By Barry Sloan, VE6SBS, Alberta, Canada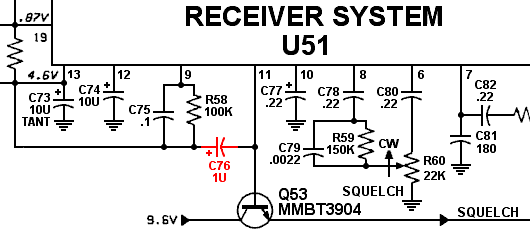 Top Side
of Radio

Front is
to the Left

Remove
1.0 µfd 50V capacitor C76
(circled in red)
to eliminate delayed squelch during reception of weak signals.

Motorola GM300 radios start adding delay to the squelch drop out time as received signal strength becomes less. Normally this is desirable to prevent squelch chatter when receiving weak signals.
For link radio use however, as little squelch delay as possible is desired. To remove the squelch delay feature, in the GM300 radio, remove C76 (circled in red in above photo).
---
---
Photos, text and layout between the two sets of double lines is Copyright © 2001 Barry Sloan VE6SBS
Comment by WA6ILQ: If you look carefully in the above photo you will see that Barry simply lifted the positive side of the cap. You could simply put a SPST switch in series with either lead of the cap, then mount it to the front or side panel of the radio and label it "Normal Squelch" and "Fast Squelch".
Up one level
Back to the Motorola index
Back to Home
This is a local (at www.repeater-builder.com) copy of the web page at http://www.sbszoo.com/ve6sbs/projects/gm300/, only because that site was down several times after I began to referred folks to it. I decided to put a local copy here at repeater-builder just in case Barry's web site went away completely. No copyright infringement of Barry's work is intended.
This web site, the information presented in and on its pages and in these modifications and conversions is © Copyrighted 1995 and (date of last update) by Kevin Custer W3KKC and multiple originating authors. See the main page at www.repeater-builder.com for more information on the web site copyright.