Comments and additional material are welcome
(even "Hey - you've got a typo at..." messages)
Look for the author's email info at the end...
The HLN4011 is a single-code Digital PL (DPL) board that was designed to be used in the Mitrek, Syntor and similar mobile radios, and matching base stations. The TLN5730 DPL Two Code Adapter allows the board to encode one DPL code and decode another, with the selection driven by the PTT line (this functionality is sometimes called "split codes").
---
The pinout of the brown single-row 9-pin connector at the right edge of the photo above is:

Pin Function
1 = External code in or out (depending on option jumpering)
2 = Squelch disable (via JU5)
3 = Digital code output to TX modulator
4 = PTT in
5 = Audio mute (via JU4)
6 = Discriminator audio in to DPL decoder
7 = PL filter
8 = B+ (pos 12v)
9 = Ground
For reference, pin 9 is at the top.
---
Later on, the market needed a multi-code verion of this board, and the YLN4011 was developed. This board accepted a 16-pin PROM chip and allowed 4 separate DPL codes on one board. The board, however had a disadvantage: if you wanted to chage one code you had to burn a whole new PROM.
Photos below are of that board and are by Robert Laag WA6ISG: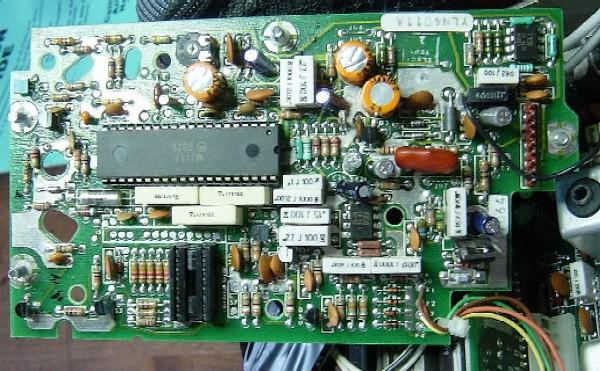 If anyone has any documentation on the YLN4011 board please drop a note to Mike WA6ILQ.
Contact Information:
The author can be contacted at: his-callsign // at // repeater-builder // dot // com.
Back to the top of the page
Up one level (Mitrek index)
Up two levels (Moto Index)
Back to Home
---
This article originally posted 03-May-2008

This web page is copyright © Michael R. Morris WA6ILQ 2002 and the date of the last update.
This web page, this web site, the information presented in and on its pages and in these modifications and conversions is © Copyrighted 1995 and (date of last update) by Kevin Custer W3KKC and multiple originating authors. All Rights Reserved, including that of paper and web publication elsewhere.