I have to maintain both MSR2000 and MSF5000 stations. Each one uses a different and unique metering test set. I figured out how to make a cable to use the R1033 test set with the MSF5000. This took about 1 hour to figure out and build. I just used some old phone and network cables lying around and found a female DB37 at work.
The R1033 test set has an un-amplified speaker, a 50uA DC meter, and a 1 kHz tone generator, and it can measure SINAD and low AC voltages. These features are all useful for quick tests when a service monitor is not available. The RTK4046A metering cable was available for use with the MSF5000 stations.
The MSF5000 test sets (TLN2418 and TLN2419) have an amplified speaker and a 50uA DC meter. The TLN2419 adds a channel number display and an array of 64 LEDs for viewing the status of the station's multiplexed bus (internal signals). The LEDs are invaluable for troubleshooting logic problems and for setting the squelch controls. These test sets connect to the station with a 40-pin flat cable and an 8-pin modular cable.
The 8-pin, 8-position modular plug (commonly called RJ45, otherwise known as RJ41, RJ48, RJ49, or RJ61) mates with the TX or RX metering jacks on the front of the station. All measurements are performed with the R1033's REV / NORM switch in the REV position. The 6-pin, 6-position modular plug (commonly called RJ11, otherwise known as RJ12, RJ13, RJ14, RJ18, or RJ25) mates with the control jack on the front of the station and provides access to the transmit and receive audio and PTT signals.
When constructing the cables, remember that the pins 1-6 on the RJ11 are counted opposite of the RJ45, and they bear no relationship to network or telephone cable wiring. If looking directly at the front of the MSF, the RJ11 control port is counted 1-6 from left to right and the RJ45 metering ports are counted 1-8 from right to left. This numbering convention, or lack of it, is typical for Motorola. The photo below shows the tab location (upward) and the pin numbering depicted in the text. There's a PDF version of the R1033 test set manual on this web site in the Motorola Portable Test Sets section.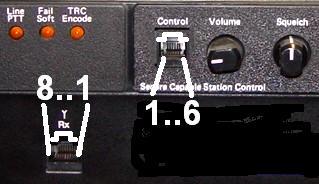 The following table describes the wiring to make the test set adapter cable.
DB37F
Pin #
Signal
Name
RJ11
Pin #
RJ45
Pin #
2
Ground
1
---
25
Ground
2
---
21
Microphone Audio
3
---
22
PTT
4
---
15
Speaker Audio
5
---
---
Not Used
6
---
10
Meter 1
---
1
8
Meter 2
---
2
6
Meter 3
---
3
5
Meter 4
---
4
4
Meter 5
---
5
---
Not Used
---
6
12
Meter Common
---
7
---
Not Used
---
8
24
Jumper to Pin 14
---
---
14
Jumper to Pin 24
---
---
NOTE: The jumper from pin 24 to pin 14 turns the test set's battery on.

Here's a photo showing the various cable ends.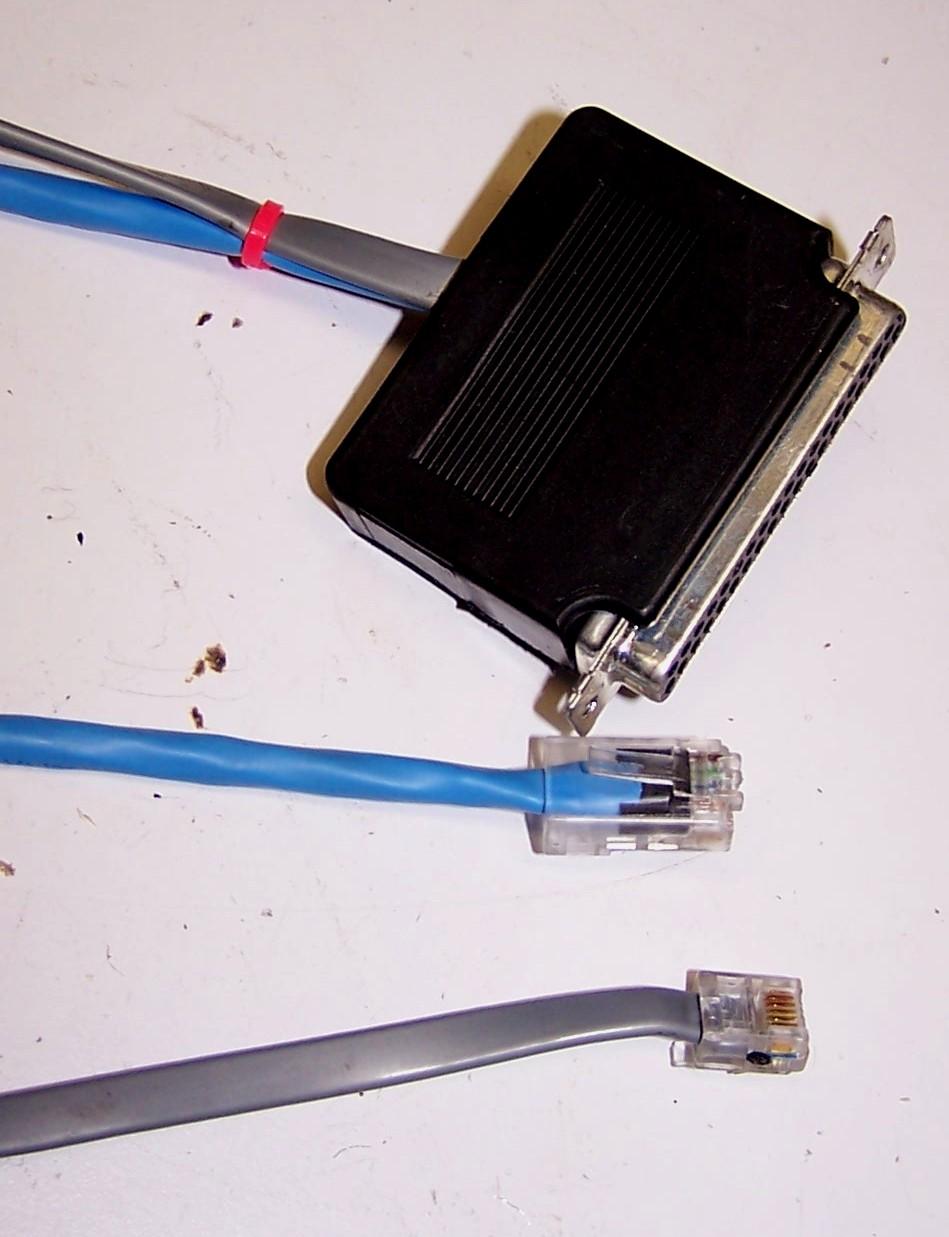 Now I have a compact little test box I can grab and take to the mountain and test both my MSF5000 and my MSR2000 without having to lug around two different test sets.
Here's a photo showing the R1033, the adapter cable, and an MSF5000 station in use.
Acknowledgements and Credits:
MSF5000, MSR2000, R1033 are trademarks of Motorola, Inc.
Pin numbers came from their respective service manuals.
The cable and in-use photographs were taken by the author.
Article conversion and photograph of MSF5000 jacks by Robert Meister WA1MIK.
Contact Information:
The author can be contacted at: stump_andy [ at ] yahoo [ dot ] com.
Back to the top of the page
Up one level (MSF index)
Up two levels (Motorola index)
Back to Home
This page originally posted on Thursday 05-Aug-2010.

---
Article text © Copyright 2010 by Anthony Stump KE4KQI.
Layout, photographs, and conversion to a Repeater-Builder article © Copyright 2010 by Robert W. Meister WA1MIK.
This web page, this web site, the information presented in and on its pages and in these modifications and conversions is © Copyrighted 1995 and (date of last update) by Kevin Custer W3KKC and multiple originating authors. All Rights Reserved, including that of paper and web publication elsewhere.