MICOR Volume / Squelch Board
This board is an easy way to replace the factory control head circuitry in a Motorola MICOR Mobile radio when interfacing to a repeater controller.
On-board features include:
COS Buffer / Inverter
Volume and Squelch pots
Push-To-Talk Test switch
Push-To-Talk Disable switch
Monitor Speaker Jack
Audio Amplifier Dummy Load
This board is similar in design to the Volume / Squelch board manufactured for the GE MASTR II series radios with additional circuitry needed with the MICOR Mobile. This board has all necessary circuitry neatly packaged on one circuit board. Hook-up wire included with board purchase.
MVSQ shown mounted in a MICOR Mobile including wiring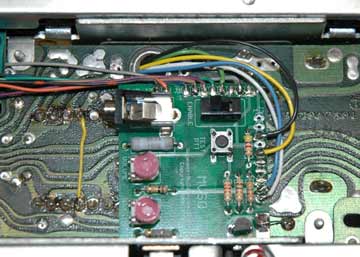 MVSQ shown mounted in a MICOR Mobile
Installation sheets:
Early Version 'A' Documentation
Late Version 'B' Documentation
Cost: $25 each
Shipping for the above is $5 via Priority Mail.
Insurance is Optional. Shipping may be combined with other products.
Terms: Prepaid via Postal Money Order.
To order, or for more information, Please contact us either via e-mail or by phone (814) 444-9460 during reasonable hours EST.
---
Copyright 2005, Repeater Builder.
Images property of Repeater Builder.
Logo Design by Elisha Zimmerman KB9WCX
HTML August 14, 2006, N3XCC All Rights Reserved!
Updated August 21, 2006, N3XCC