Background:
The VXR-1000 is a range extender or vehicular repeater. It is used to allow use of a hand-held transceiver to extend the range of a mobile radio. They come in VHF and UHF models, are low power, and operate half-duplex. They can be used quite well as link radios.
This configuration allows a VXR-1000V/U to be a directly connected link radio for the DR-1X repeater for site linking or interconnects via RF without adding an external controller or placing the DR-1X into remote mode. It also maintains a separate audio path to the other site. Any voice announcements or CW ID are not sent over the VXR-1000V/U so it's a completely transparent link to the users.
It can also be used as an analog link for users that want to allow better sharing between digital and analog operating modes. The audio coming out of the DR-1X at the 10-pin mini-DIN connector is analog even when it's receiving digital, and whatever the VXR receives the DR-1X retransmits as digital, if the repeater is set to fixed digital mode for transmit and receive. Because of this the repeater can be put into fixed digital mode for transmit and receive and still be usable by analog users or linked to an analog repeater!
Constructing the Interconnect Cable:
The VXR-1000V/U has a male D-subminiature 9 pin connector, so you'll need a female D-subminiature 9-pin connector (and optionally a hood to fit it). The DR-1X uses a proprietary 10-pin mini-DIN connector; this is not a normal 10-pin mini-DIN connector as the alignment notch is rotated 180 degrees from standard and the pin spacing on one row is staggered. The Yaesu CT-167 Data Cable is the exact item you need. That cable has the proper special mini-DIN male connector at one end and 9 tinned bare wires plus the shield at the other. See the photo below.
It's the same plug and cable used on all the newer Yaesu digital mobiles as well as a few of their HF radios. It's also the same connector used on the WiRES-X HRI-200 interface. You'll have to purchase this cable from a Yaesu dealer for $25-$30.
The VXR-1000V/U D-sub accessory connector is documented in the image below.
Here's the DR-1X mini-DIN accessory connector and CT-167 cable wiring diagram.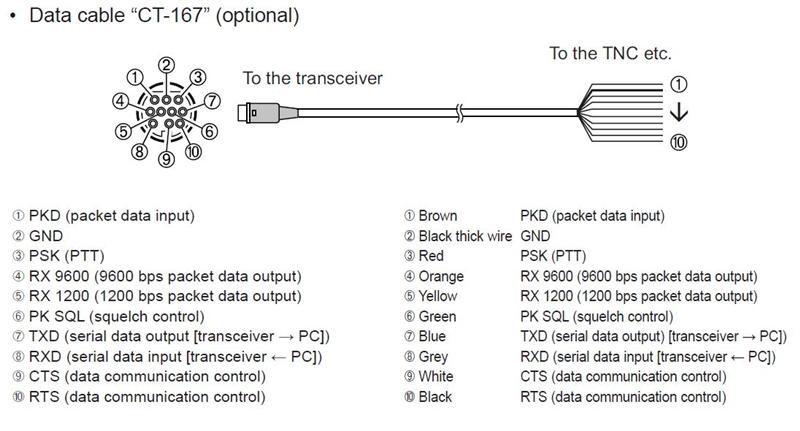 Based on the above information, wire the cable according to the table below.
| Pin | VXR-1000V/U Signal Name | Pin | DR-1X Signal Name |
| --- | --- | --- | --- |
| 1 | GND | 2 | GND (black thick wire or shield) |
| 2 | TX Audio | 1 | PKD (brown wire) |
| 3 | Power supply control: jumper to pin 5 | --- | - - - - - |
| 4 | PTT output | 3 | PSK (red wire) |
| 5 | VCC (13.8v) | --- | - - - - - |
| 6 | RX Audio | 5 | RX 1200 (yellow wire) |
| 7 | COR Input | 6 | PK SQL (green wire) |
Settings:
For the VXR-1000V/U, insure that COR Detect is set to Active High. In the programming software there is an option to select Squelch Open or Squelch Closed when pin 7 goes high; make sure its set to the default of Squelch Open. The Squelch Threshold level can be changed inside the VXR-1000V/U via VR1003. If the COR doesn't trigger with the 5V output from the DR-1X, adjust the threshold until it does so reliably.
For the DR-1X, no settings or changes are necessary to utilize the VXR-1000V/U.
Testing:
I tested the COR trigger with my bench supply. While the VXR service manual calls for a level of more than 3V for active high, I found that it would trigger with around 1.6V with the threshold set to minimum, and around 14V with the threshold set to maximum. You can turn the threshold up to where it ignores anything below a certain level quite nicely; I set mine to 4.5V as the DR-1X supplies 5V (actually mine was showing 5.06V on open squelch). I believe the stock setting of VR1003 is sufficient for nearly everyone; I just couldn't let it go without taking a look at how it operates.
Operation:
With the VXR-1000V/U connected in this manner, anything received on the VXR is retransmitted on the DR-1X, and anything received on the DR-1X is retransmitted on the VXR. The VXR can then be programmed with the frequency pair of another repeater for direct linking or it can be programmed for a simplex frequency for a dedicated link. It performs the same function as a link radio on any repeater controller available but without any adding hardware or complications. Note however that the VXR does NOT send any form of ID on its transmissions, so if you were to use it for a dedicated link and not another repeater pair you would technically need to add an ID to the link frequency.
There is many ways to accomplish this; the simplest would be a separate CW ID module added to the VXR in parallel with the connection to the DR-1X. I might be exploring further options with this later for a dedicated site-to-site link.
Contact Information:
The author can be contacted at: kb0nly [ at ] mchsi [ dot ] com.
Back to the top of the page
Up one level
Back to Home
This page originally posted on Thursday 14-Jan-2016.

---
Article text and photograph © Copyright 2016 by Scott Lichtsinn KBØNLY.
Article layout and HTML conversion © Copyright 2016 by Robert W. Meister WA1MIK.
This web page, this web site, the information presented in and on its pages and in these modifications and conversions is © Copyrighted 1995 and (date of last update) by Kevin Custer W3KKC and multiple originating authors. All Rights Reserved, including that of paper and web publication elsewhere.