I used 1-5/8 inch Andrew LDF cable. The discs on the bottom are cut from 0.020 inch thick copper strap left over from a grounding project.
The same strap was used to make a cylinder at the top end of the coax stub. I used a small butane torch to solder these on.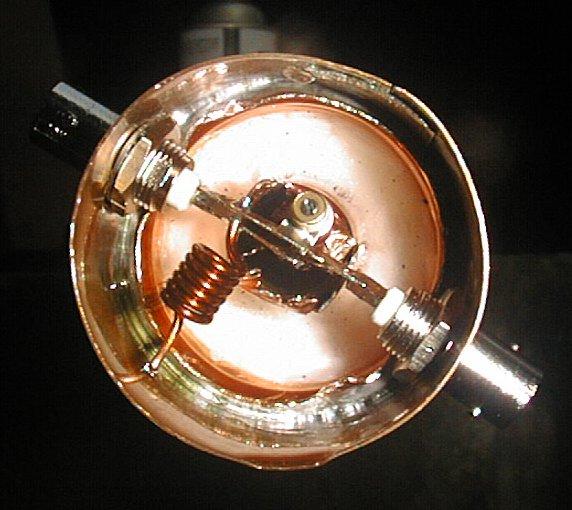 When the stubs were working correctly, I soldered copper discs on the top to vermin-proof them. The discs have a small hole in them that is used to tweak the trimmer caps. All holes are plugged with plastic plugs that I bought at Home Depot. Here are two completed filters before the tops were installed. [Editor's note: I don't know what the device is in the left unit opposite the coil on the right unit. It might be a capacitor. Filters of this type often have an additional coil or capacitor to improve the pass-band loss on one side of the notch.]
I used RG-142 for all the interconnecting cables. I am using these notch filters in addition to a pair of pass cavities to make a complete duplexer. Here's a spectrum analyzer shot showing the response and notch depth.
[Editor's note: unfortunately there were no specifications for the length of the Heliax stub or the values of the trimmer capacitors or the coils. This information came as a short TXT file and a few pictures. You get what we got.]
Back to the top of the page
Back to Antenna Index page
Back to Home
This page originally posted on Tuesday 31-Jul-2012

---
Article text and photographs © Copyright 2012 by Jeff Otterson N1KDO.
Artistic layout and hand-coded HTML © Copyright 2012 by Robert W. Meister WA1MIK.
This web page, this web site, the information presented in and on its pages and in these modifications and conversions is © Copyrighted 1995 and (date of last update) by Kevin Custer W3KKC and multiple originating authors. All Rights Reserved, including that of paper and web publication elsewhere.