Custom Products for the Repeater Builder
Microminiature Audio Processing Module
For Two-Way Radio Applications
Model AP-50 Click Here for installation instructions in .PDF format
Ordering instructions on bottom of page.
The AP-50 is the most versatile 2-way radio audio processor module available.

This product is mostly surface mount to minimize size and allow an installation concept similar to the Com-Spec TS-64. It can be used stand alone in existing repeater/link applications, or, available as an option for use with modern repeater controllers like the SCOM 7330.
Price $50.00 single quantity.

---
Actual Size AP-50 board.
(Click image to enlarge)
Description:
The Repeater Builder AP-50 Audio Filter/Limiter Audio Processing Module replaces the "Blob" or stock clipper/filter sections in Two-Way FM radio transmitters. While this circuitry was originally designed for use in a repeater, it can also be used to feed other transmitters' modulator directly from a discriminator source like in cross band repeaters, voting systems, or links. The module has 3 controls for setting the amount of clipping (or processing), the cut-off frequency of the low pass filter (or bandwidth), and the amount of deviation. The module has solder pad jumpers to 'program' the type of audio feeding the board, and the type of audio that will feed the modulator. The jumpers allow either pre-emphasized or normal (flat) audio to feed the clipper/filter, and allow either flat or pre-emphasized audio output to feed the modulator; which accommodates either PM or FM modulators to be properly driven. The low pass filter has an elliptic response created by a switched capacitor filter to provide 'brick-wall' filtering. The cut-off frequency is set by adjusting a potentiometer. The approximate cut-off range is between 2500 and 5500 Hz. to accommodate anything from 15 kHz. spaced 2 meter pairs to 25 kHz. spaced UHF repeater, link, or auxiliary allocations. Unlike other modules available at the time of this writing, this unit is totally adjustable. This allows you to set the bandwidth for the situation, instead of settling for a mediocre compromise of like say 3000 Hz. This is especially true where you are conveying wide band audio in satellite or remote receiver applications so the voter sees enough noise bandwidth to vote properly. Frequencies between 3000 and 5500 Hz. are very important in voting, just make sure you are linking back on a wide band channel.
The module is capacitively coupled with 10 uF non-polarized capacitors throughout to ensure wide frequency response and no cut off of low frequency signals like PL/DPL signals that may exist with the repeated audio.
The module has a dedicated PL, DPL, or CTCSS, CDCSS input. This input is mixed in after the clipper/filter section of the processor to insure proper low distortion modulation of "PL" tones, and helps eliminate "talk-off". This input is DC coupled and can be driven directly by modern CTCSS/PL or CDCSS/DPL modules. Since the output coupling capacitor is very large, 10 uF, it allows DPL to be passed without distortion by giving the module a 'near dc' low frequency response. The module can be driven directly with the familiar Com-Spec SS/TS-32, SS/TS-64, TS-64DS or similar tone modules.
Concept:
The module is used to process audio feeding a Frequency Modulated (FM) or Phase Modulated (PM) transmitter. Many times the stock audio processing (clipper/filter) portion of a transmitter can limit the audio bandwidth of the system. By using this module, a setable frequency bandwidth is obtained in addition to amplitude limiting. A custom integrated circuit is used to do most of the processing, including amplitude limiting and set-able frequency filtering. The custom chip is provided voltage from an on-board regulator to ensure stable operation. A second integrated circuit op-amp is used to buffer the output of the custom chip to drive low impedance loads (modulators) directly. Using this module will insure the best transmitted audio within the bandwidth limitations of your particular service. It will also prevent your transmitter from splattering or making adjacent channel interference as a result of using unprocessed audio. In commercial applications, the use of this product *may* void the the radios FCC Type Acceptance, so be sure of your intentions.
Specifications:

Power Source
+12 to +16 VDC, must be constant, not switched.
Frequency Response
Less than 50 Hz. to 90% of Fc - +/- .25 dB typical on main input.
Near DC to 100 kHz +/- .25 dB typical on PL/DPL input.
LPF Cutoff Frequency
2500 to 5500 Hz.
Minimum Audio Input Level
200 mV P-P
Input Impedance
Approximately 10 K Ohms.
Output Impedance
Approximately 100 Ohms.
Maximum Audio Output Level
0 to 8 Volts P-P, but depends on supply voltage.
LPF Rolloff
-30 dB at 144% of Fc (see chart below)
Features:


The latest and smallest adjustable (programmable) Audio Processor Module for use in FM/PM transmitters and repeater controllers.


Brick Wall Filtering.


Low Noise.


Wide Frequency Response, great for Flat Audio Repeaters, and Satellite Link-Back (voter) applications.


Very Low Distortion and Group Delay


Low Power Consumption, <20 mA. typical.


Adjustable Clip Level, LP Filter Cut-Off Frequency, and Deviation Level.


Small Size (approx. 1.2 x 1.8 x .3 inches)


Operating temperature range is -20°C to +60°C


Simple to hook-up and set-up.


Module is reverse polarity protected.


Mating power/signal connector can be plugged on backwards without incident.


90 day Limited Warranty. Repair available for units out of, or not covered, under warranty (factory determined).


Mounts with double sided foam tape (not included)


Hookup is made from miniature 5 pin male .100 header pins.


Mating female socket and pins are supplied so you can make your own wiring harness.


Can be used to drive a link transmitter from a computer (or other flat) source like a sound card.


Detailed Set-Up and Instructions included.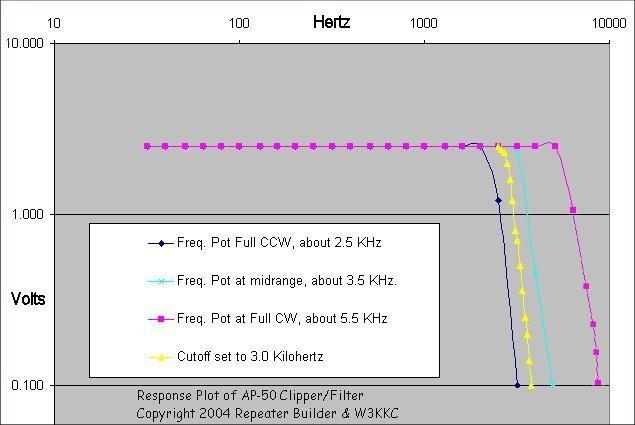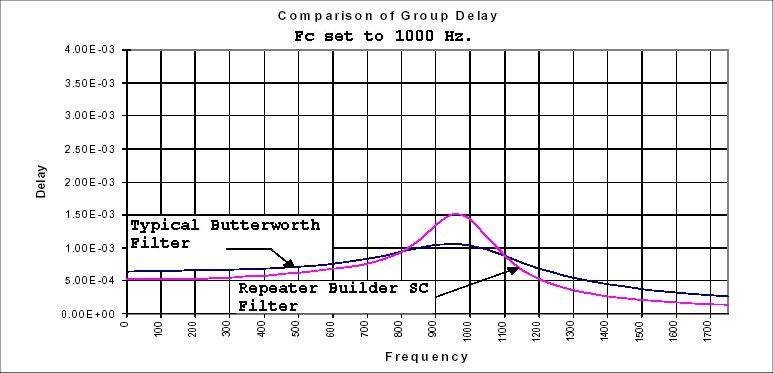 Email Scott Zimmerman for ordering information and/or quantity pricing of this exciting product.

Product of Repeater Builder, all rights reserved.
Design owned by Kevin Custer.
Specifications may change without notice.
Copyright 2005, Repeater Builder.
Images property of Repeater Builder.
Logo Design by Elisha Zimmerman KB9WCX
HTML May 8 2005, W3KKC All Rights Reserved!