Photo 1: Rear view
Note that the left pair of cavities have the cables connected at the rear of the cavities, and the right pair are at the front (which is defined as the end with the mounting panel, and the tuning shaft or knob).

Photo 2: Front view
This photo is unusual in that the knobs are present, as opposed to 90% of the ones I've seen in the field where they are missing. The absence of the knobs keeps the children from messing up the careful tuning. Also note that the cavities are labeled "transmit" and "receive". Well, ignore that labeling. You want to think in terms of "high frequency side" and "low frequency side" since in some geographical areas the transmitter is on the higher of the two frequencies and other areas the receiver is on the high side... Regardless of which side of the frequency pair is receive or transmit, the lower of the two frequencies should connect to a loop cavity, which has the two connectors close to the front of the cavity, and the higher of the two frequencies should connect to a probe cavity, which has the two connectors close to the butt (rear) of the cavity. Also be careful to use only silver plated connectors (especially NOT nickel plated).


Photo 3: One cavity's adjustment shaft
In case yours are missing, Scott KBØNLY located the exact locknuts. They can be purchased from McMaster-Carr as part number 94830A550; they're $8.18 for a pack of 5.



Photo 4: top view (click for full size image)

Photo 5: The high frequency side

Photo 6: The low frequency side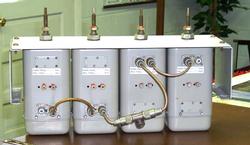 Photo 7: Another top view
The side panels visible in this photo are rare. They are made by Chatsworth Products Inc. (http://www.chatsworth.com) and allow the duplexer to be offset in a cabinet rack for easier mounting and adjustment. Note how the center coax T-fitting is cabled in this photo versus the other photos. This photo shows it miscabled, on purpose, just for the photo - while more physically symmetrical, the coax lengths are precisely measured to the 1/8 of an inch, and if the cabling was manufactured for the configuration shown in the upper photos then the performance will be degraded if it is used as shown in this picture.
From the manuals below: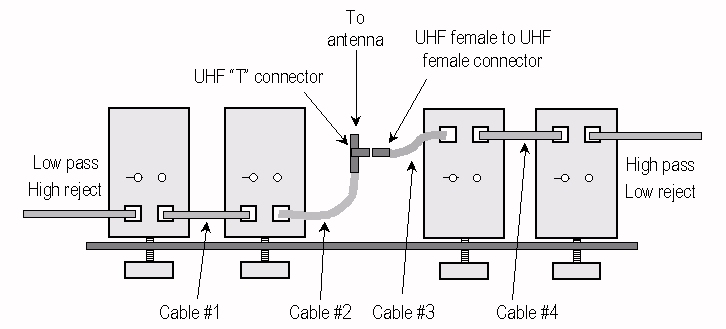 Cable lengths in inches, from tip of PL259 to tip of PL259
Cable #1
Cable #2
Cable #3
Cable #4
406-430 MHz
9-3/8
9-3/4
6-3/4
10-1/2
430-470 MHz
8-1/2
8-3/4
5-3/4
9-3/4
---
Documentation:
The original Motorola T1500 manual is part number 6881102E96, titled "Filters and Duplexers, T1500A series, 406-512 MHz"
T1500 manual version "G" dated 01/25/1983 1.3 MB PDF file
This manual was scanned with a "full page" scanner, with the pullout pages scanned as full width scans (no cutting and pasting, or "stitching" needed).
Motorola T1500 Cavity Aplication Notes, dated 22-July-1976 816 kB PDF donated by Bernie Dier KH6IAH by way of Bob Hlivak NH6XO.
This is a complete walkthrough on combining using T1470 or T1500 cavities.
Below are scans of another version of the T1500 manual (version "F" dated 9-30-1977)


Page 01 1.1 MB


Page 02 261 kB


Page 03 305 kB


Page 04 338 kB


Pull-out Parts List Page 05 Left 207 kB Page 05 Middle (physical drawing) 153 kB Page 05 Right 196 kB


Pull-out Inter-cavity cabling drawing Page 06 Left 162 kB Page 06 Middle 197 kB Page 06 Right 252 kB


Page 07 216 kB


Page 08 280 kB


Page 09 248 kB


Page 10 224 kB


Page 11 206 kB


Page 12 289 kB


Page 13 261 kB


Page 14 299 kB


Page 15 324 kB


Page 16 206 kB


Pull-out Performance graphs (first page of graphs) Page 17 Left 239 kB Page 17 Right 245 kB


Pull-out Performance graphs (second page of graphs) Page 18 Left 199 kB Page 18 Right 195 kB
A single 2.4 MB PDF file of a version "E" writeup dated 4/7/1976.
The Cactus Radio group has published a tech note on refurbishing the T1500 cavities.
From their web site at http://www.cactus-intertie.org/:
This Technical Application Note describes the process for disassembling, cleaning and reassembling the Motorola T1500 Series Cavities. http://www.cactus-intertie.org/LA/tec_not6.pdf dated June 26, 1999. A local copy can be found here.
Contact Information:
The author can be contacted at: his-callsign // at // repeater-builder // dot // com.
Back to the top of the page
Back to the Antenna Systems index
Back to the Motorola main index
Back to Home
---
Scans of the over-20-year-old, version "F", no-longer-available-data sheet, date unknown
Photos 1-6 by Bob Meister WA1MIK
Photo 7 by Chuck Krinke WA6LWB
Motorola® is a registered trademark of Motorola Inc.
This web page created by Mike Morris WA6ILQ Aug 2004

This web page, this web site, the information presented in and on its pages and in these modifications and conversions is © Copyrighted 1995 and (date of last update) by Kevin Custer W3KKC and multiple originating authors. All Rights Reserved, including that of paper and web publication elsewhere.